Firefighters Awarded for Heroism at City Council Meeting (2/20/01)
It was a dramatic scene for a dramatic rescue. On February 20ths City Council Meeting 4 firefighters were awarded for their heroism at a recent structure fire. On January 28, 2001 Beacon Fire Department was dispatched to a kicten fire. Upon arrival there was heavy fire in the rear of the 2nd floor of the 2.5 story apartment building. There also was a subject trapped on the 3rd floor. Four firefighters, Tim Joseph, Matt Debetsky, Mike Papo, and Jerry Antalek, quickly raised ground ladders to the third floor and rescued the victim. The victim was transported to a local hospital and recieved only minor injuries. At the meeting the Mayor and the Chief of the Fire Department, Terrance Davis, presented awards to the four firefighters. Some of the residence from the structure were also presented and thanked the firefighters. Each station in the city fire department and the Beacon Volunteer Ambulance Corp. also recieved awards for their great efforts at the fire.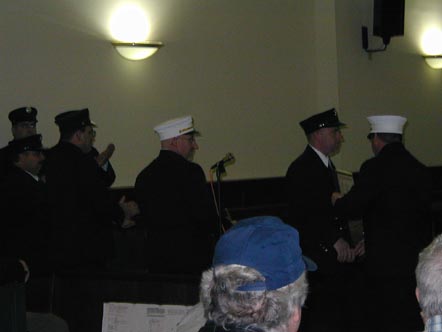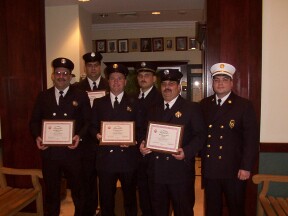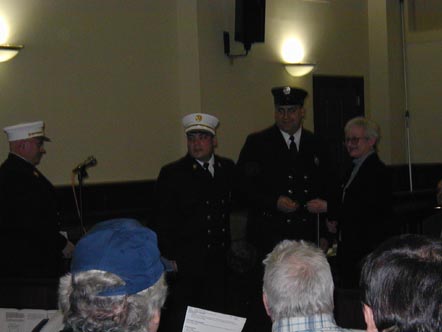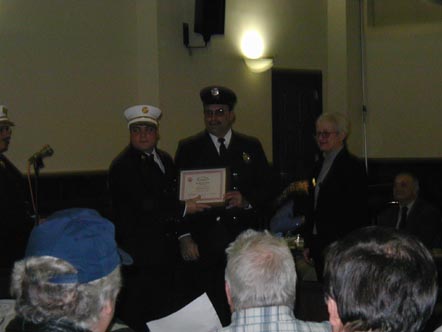 Beacon Building Collapse(12/17/00)
On Sunday, December 17, 2000, at about 11:00 AM, Beacon Police received a call for a report of bricks that fell from a vacant building at the corner of Main Street and Willow Street. Upon arrival, PD reported a large section of the exterior wall collapsed into the street. The street was shut down and the building inspector was notified. City of Beacon Ladder 1 (33-45) was then requested to the scene to secure the structure. The Beacon Fire-Police Unit was also requested to the scene for crowd and traffic control. The cause of the collapse was due to heavy rain and winds. No injuries were reported.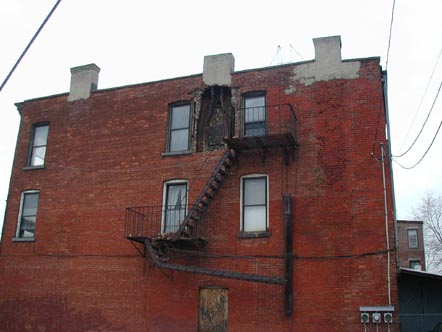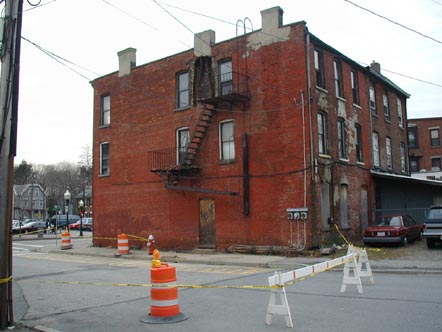 Back to Photo Gallery Main Page
or
To go back the Beacon Fire Department website Click Here